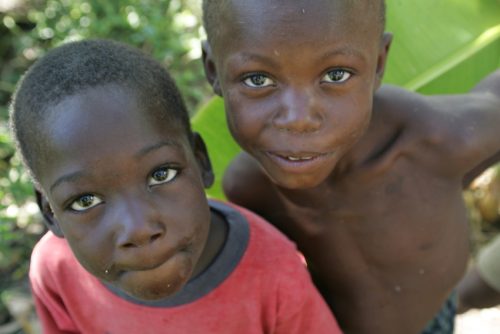 On a hot July day, a nearly blind man in his late 80s came for help to the medical clinic at the Hope For Haiti Children's Center in Ouanaminthe. He was assisted by a young friend, Joanne Sitarek said. Upon listening to her minister salvation to the blind man, the friend said, "I want that, too."
Meanwhile, Sitarek encountered a woman, about 30 years old, who had multiple health problems, as did her 5-year-old son. After being prayed over for her health, and accepting Jesus, the young mother shared with Sitarek that her husband had deserted her when she became pregnant. The woman's newfound faith, on this summer day, changed her feelings of hopelessness to that of hope. She asked Sitarek to pray every day that the boy's father would return, so that they could be a family.
While ministering to hundreds of patients of all ages through an interpreter, Sitarek played a Proclaimer, an audio Bible provided by Faith Comes By Hearing, in the waiting area. Though she cannot quantify exactly what impact the device had on the 560 people that she and the other missionaries, including a doctor and a physician assistant, treated and ministered to over three-and-a-half days, she believes it played a vital role in preparing the hearts of the young man and the mother to being receptive to accepting Christ.
"When that Proclaimer was on, the Word of God was going forth in that room," Sitarek said. "When it was off, the presence of the Lord was still there. It even ministered to me, even though it was in Haitian Creole."
Near the end of the mission trip, Stark presented the Proclaimer to Clynie Paul, who received it with much gratitude and thanksgiving. Paul and her husband, Pastor Daniel, run two orphanages in Ouanaminthe, which are supported materially and financially by The Lutheran Church – Missouri Synod.
Sitarek was part of a team of nearly 50 people from Hearts Afire, Inc., of Sarasota.
Hearts Afire, which sends doctors, nurses, ministers and others on about six mission trips every year to Africa, Asia and Latin America, took Proclaimers to Haiti and Peru in 2013. In June, Pastor John Gerhardt of Sarasota presented a Spanish Proclaimer to a Peruvian pastor, who lives in one of the villages along the Amazon River and agreed to use it to minister to his flock.
Each summer Hearts Afire travels on Amazon Medical Mission's riverboat, Chosen Vessel II, to visit a different village on the Amazon River, where they build a church and install wells.
Traditionally, Proclaimers are presented to native pastors as part of Hearts Afire's effort to bring healthcare, adult ministry and children's ministry to the people of Peru, Haiti and the other nations it visits.