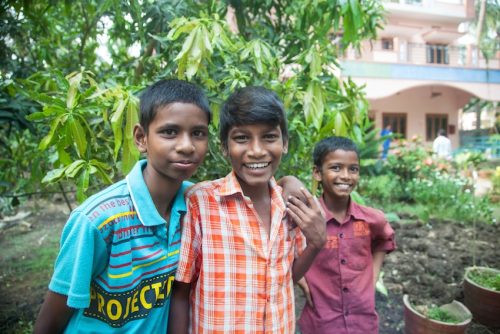 This is the story of God's grace. Here we started out on a great adventure with the Group of Seven. This has been the most difficult trip for me personally to put together. I will tell you that having gone on more than 20 mission trips in the last several years, for me to say that means quite a lot.
India is one of the most difficult countries to enter from all aspects. First of all you can only go into India during a few months of the year because during the other times either their weather is impossible to work in or it is typhoon season. Therefore it only leaves a window of approximately three to four months where we can actually do short-term missions.
We started organizing this trip approximately one year ago but it really did not completely come together until about six weeks before we actually left. It has been a challenge – from airlines to visas to medical licenses to medications and finally the team members encountered their own personal difficulties before the trip – leading us to almost cancel it on several occasions.
However we persevered, knowing fully well that the Lord gave us the clear YES to enter India. With faith and trust in the Lord, decisions were made and obstacles were bypassed and yes, now we find ourselves here in the middle of the Andhra Pradesh region of India, where we expect to treat close to 1,000 patients.
Even before we arrived in India we experienced incredible miracles. Just the fact that we are here is a miracle. We had arrived at the Tampa airport Sunday, checking in through JetBlue and JetBlue did not have any knowledge of us. For some reason there was a glitch in their system. We almost did not get on the flight. Thanks to wonderful Christian lady at the counter with angel wings tattooed on her back, who pushed hard to find us seats, we got the last seats on that flight. From there on it became easier sailing, despite our 40-hour itinerary from Tampa to India. We shuffled from cars and buses to airplanes and vans and went from one place to another until we landed in Razole, India.
Here we are working with Gospel Fellowship of India under the authority of Pastor Sharath Bhushan. He is a fourth-generation pastor and believe me, in a country where 96 percent are Hindu and only 2 percent are Christian, that is significant. He has planted more than 40 churches in the Andhra Pradesh region and has trained many pastors. More than 100 Bible school students graduated from the Peniel Bible College over the last few years. We have been working with him since 2009 and this is the third time that I have entered this region of India. I am amazed at how much growth in Christianity has happened since then.  It is really amazing to see the fruit of the labor of this ministry.
Thanks to PepsiCo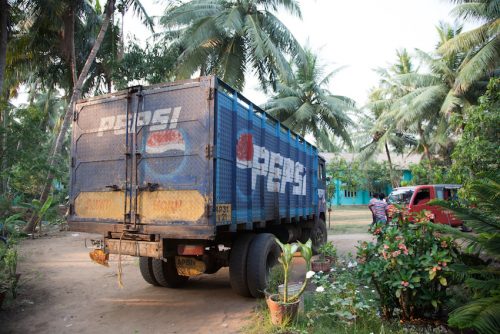 When we first arrived in the missionary compound we discovered that donations from PepsiCo had arrived. What an incredible blessing to see this large truck full of sodas, water and snacks that were donated by our friends at PepsiCo. We have been able to supply not only ourselves but also all the people who have been attended to and treated in our clinics. Pictures of this incredible donation have been posted on our Facebook page for you to see.
You also need to put this in perspective. Today we worked in a region called Pallamkuru. Pallamkuru is a farming community where more than 90 percent of the residents work in the rice fields. They are employed by the rice owners at a wage of less than $4 for a seven-hour day. They often have back pains, headaches, heat exhaustion and traumatic injuries. By supplying them with some snacks and soda worth about $1 in this country, we were actually able to give them a treat they cannot otherwise afford.
In 2011, Hearts Afire made a grant to construct a new church in Pallamkuru. Today we had the grand opening of the church and we were blessed to see a beautiful, new cement-block church that will help serve the community for years to come. It's incredible to see great growth in the local church.
Today we saw about 110 patients and did malaria and HIV testing and children's ministry. We were able to love on so many patients and speak about the love of Christ. Tomorrow we are expected to enter into some of the most difficult areas that we have ever visited. The last time we were there I saw patients rolled up in wheelbarrows with end-stage AIDS. This area has no medical care and people are literally dying on a daily basis from various diseases that would otherwise be treatable.
This is also the area where in 2011 we ministered to more than 600 people who gave their lives to Christ. I am extremely excited because I believe that we are going to see some great things come out of this region. Thank you to everyone who prays for us as we continue to glorify our Lord in what He has called us to do. If it were not for Him and His insistence on us coming, we would not be here.
"For we are his workmanship, created in Christ Jesus for good works, which God prepared beforehand, that we should walk in them." Ephesians 2:10
I will end with a very funny story. If you have never experienced driving in India, perhaps it is about time that you join us on a mission trip here. It puts racecar driving to shame. Let's just say leaving me breathless is an understatement. I thought I might need CPR after our drive tonight. They go through three horn fuses a year. They put one hand on the horn and the foot on the pedal. When either one of these is pushed, the other is pushed at the same time, all the time. I can imagine that us as Americans have never had our horn fuse get exhausted.
Well, that's just one more adventure to put in my storybooks. This goes along with my motorcycle adventure in Haiti. I wonder if we're going to have fast racing cars or drag racing motorcycles in Heaven. Well, I guess God does have a sense of humor.
By Vilma Vega
Hearts Afire Co-founder