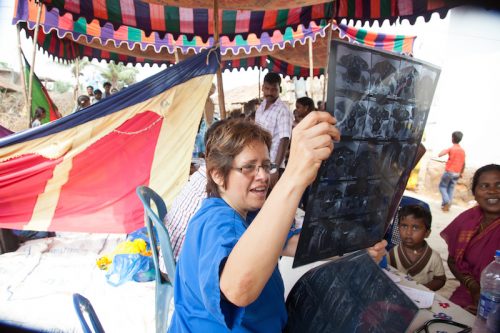 Today is a very special day. God yet again surprises me with nothing less than a miracle. We will have few words to say today because God almost left me speechless and most of you know that that is nearly impossible to do. (LOL)
After yet another hair-raising drive, for more than two hours, we arrived at our camp at Jaggampepa. I last visited this village in January 2011. At that time I remember seeing hundreds of patients and all of them quite ill. However I have fond memories of an AIDS patient who gave her life to Christ in 2009 and in 2011 she came into the clinic a changed woman. Her HIV was controlled. She had gained weight and looked fantastic and she no longer worked as a cook but instead had become an evangelist to more than 1,000 Hindu women.
I also remember the multitude of AIDS patients that were rolled in wheelbarrows to see me. Well, today was a bit different. There were no end-stage AIDS patients or wheelbarrows but instead I witnessed the fruit of an incredible miracle that happened in January 2011. A 45-year-old woman had come into the clinic in January 2011 completely hunched over and unable to stand up or walk significantly for six months when I saw her. She had brought her MRI that had been done in July 2010, showing complete obliterated destruction at the L5-S1 vertebral spine.
I was not sure if she had bacterial vertebral osteomyelitis or tuberculosis involvement of the spine. Either way the hospitals had evaluated her and had turned her away completely. They told her that there was no hope and that she would never walk again. They had also told her that she was inoperable and she would die. She landed at my clinic that day as a last ditch effort before she went home to die. Of course we were just a small, rural short-term clinic with barely the supplies necessary to treat such a serious diagnosis.
However we had all the assets that we needed and that was God's assets. We told her that we did not have medications to treat her or surgery to clean the infection but we knew a God who could heal her. We prayed with her that day and she and I believed that healing had occurred. However this being a rural clinic there is no way that I could possibly have followed up on her healing until the next time I was in India.
Well, today she arrived mid-morning with MRIs in tote. Of course I've seen thousands of patients since and I barely remembered her until she showed me her MRI. She then proceeded to tell me excitedly, all in one breath, that the Lord had healed her. In 2011 she had given her life to Christ and she had believed in her healing. Today she stands in front of me completely healed. This is the woman who was nearly paralyzed and unable to straighten up her back or barely walk in 2011. Yet today she stands up straight, walks and runs and has no pain.
She brought me her MRI to remind me of who she had been. My eyes misted because they saw the glory of my Lord who is ever the same. He is a healer and has never changed. He is the healer of yesterday, today, and tomorrow. Here is my proof. As a physician I have seen so many miracles over the years and I am always amazed when I see these people with whom I have prayed, whether on the mission field or in the USA. Come back to testify of God's healing power. All this woman wanted was to show up at our clinic today to testify of our Lord!
Please watch the video testimony that we will be posting soon of this amazing miracle.
Yes, today we treated more than 200 patients and did a lot of HIV testing and education but I believe today it was all about God showing off. And I am more than happy to boast of the God we serve. I love you, Lord!
By Vilma Vega, MD
Co-founder Hearts Afire
India Mission 2014