The locals in the Kamukuywa area had been praying for years for a "medical camp" as they call it to come to town.  And we were the first EVER
.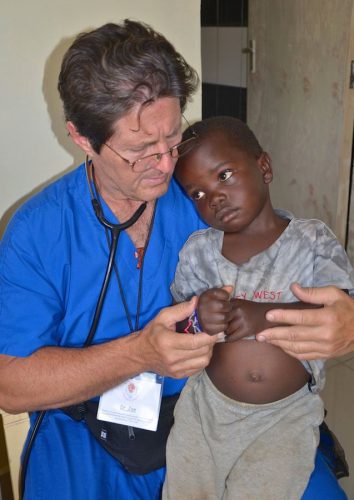 Wow, what a day!  The team was not fully prepared for what we experienced today on our trip to the rural intersection of Kamukuywa Kenya (on the road to Kimilili as it is described).  An early breakfast provided the energy for the 6AM departure from Eldoret to Kamukuywa.  We were especially blessed that 9 team members from the IVC church in Eldoret were willing to give up their day and get up early to come help us.  Two hours on the  morning road brought us out of the city air and  in Eldoret through some of the rolling hills of Kenya toward Mount Elgon the second highest peak in the country (and visible from the road).  I use the word road generously as much of the time the potholes and condition of the roads cause you to use the dirt shoulder rather than the partially paved highway.
As we approached our destination, Pastor Benard Wanjala met us at an intersection and guided us to the area of Kamikuywa.  Although rural in general nature, the town intersection had a few of what in the loosest sense be considered strip malls along the road. Not really anything more than concrete block small rooms housing whatever wares were available to the proprietor.  In front of these and closer to the road was row after row of wooden "lean to" type shops that might have roofs, and if they did, they were usually a composite of cardboard, corrugated aluminum, or whatever else might be found on the road or elsewhere.
Pastor Benard in typical Kenyan fashion was not as concerned with time as we were and so brought us to his house for a breakfast of Kenyan tea, bread, boiled eggs, scrambled eggs and bananas.  Here is where and when we discussed the general plan for the day; which barely described the true course of the day.  The team walked down the road to the venue along the highway giving us a taste of typical Kenyan life.  Upon arrival, the people started to come……basically it seemed as if THE WHOLE TOWN SHOWED UP!  Because of the great number of people and the time passing, we recruited our entire team to help count medicine and vitamins for the first hour or so.  Also during this time, the nurse practitioner from Eldoret and a local nurse practitioner helped see patients.
The needs were heart wrenching.  Immediately, a 7 year old boy who had just fallen out of a tree needed a scalp laceration sutured.  And he behaved like a champ, not moving a millimeter during anesthesia administration or suturing.  Next I was sent a 14 year old boy with an open wound near his knee for five days.  It was so dirty, I had to administer anesthesia to clean it out, and dug out a large piece of clay.  After applying a dressing I inquired about his parents so I could give wound care instructions.  His mother had died and his father worked in Nairobi about 8 hours away!  He was the eldest in his household with three younger siblings.
One 9 year old girl had a severe heart murmur and had been told to go t0 the specialist hospital, but without money, her parents decided to let her live with her affliction.  These are a few of the medical issues we saw, but because there were too many patients to be personally seen, we decided to provide anti-parasite medicine, anti-inflammatory medicine and vitamins to as many as came (close to 400).  We had sent money ahead to pay for a feeding of the widows and orphans and that was accomplished.  But everywhere we went, if we tried to give something away, we were immediately surrounded by more people than could be handled.
We were graciously provided a well prepared lunch and then were offered the opportunity to minister a word of hope to the widows and orphans.  None of this can fully describe the profound impact this area had on the team, and how even one of the local Eldoret helpers said to me "this area touched my heart because the need was so great".  I will close with the next thing he said to me which was, "when you help one child, you help an entire generation".